Ford Mustang Plainfield Indiana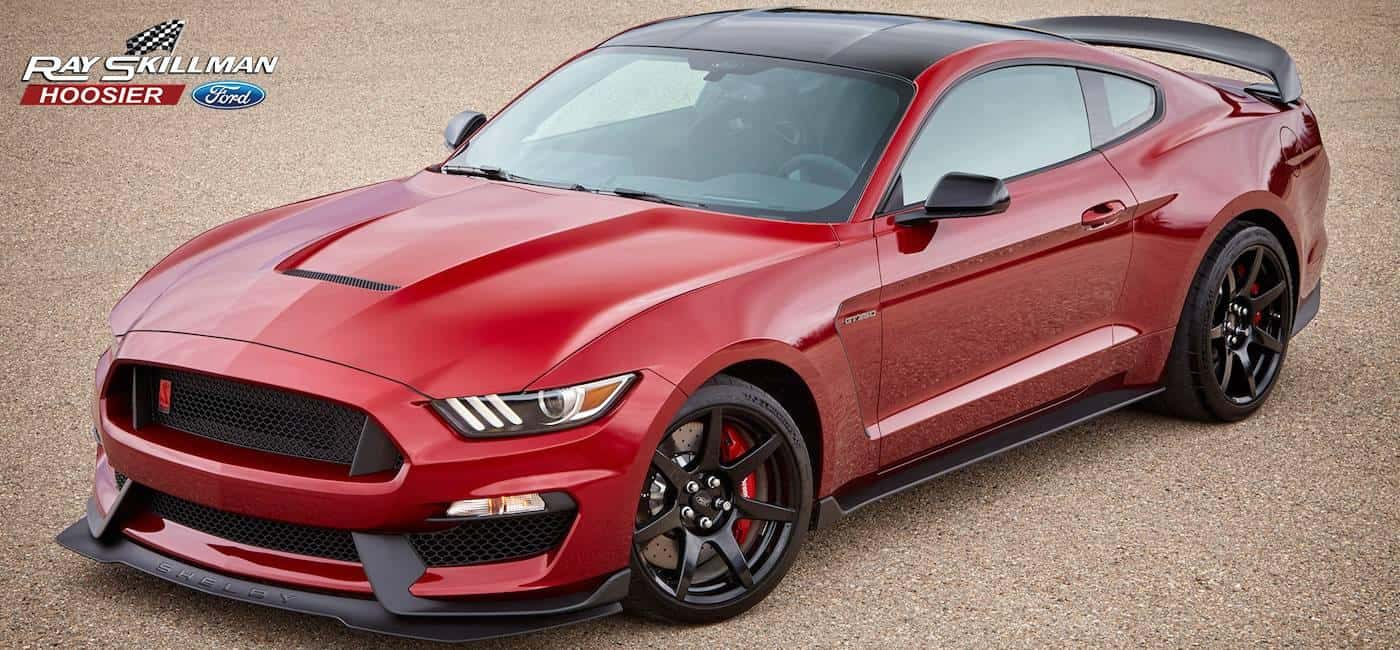 Born Free
The spirits of wild horses inside the new Ford Mustang were born to run free, and refuse to be tamed. The unbridled power is at your fingertips, here at Ray Skillman Hoosier Ford.
How do you become the best? It's simple. You just need to be the number one sports car for over 45 years. This is it. The all-new Ford Mustang delivers the goods. From pure, exuberant exhilaration, to devastatingly dynamic style, the new Mustang is the total package.
It's okay to stare. With the dynamic power, prowess, and posture of the all-new Ford Mustang, you're left wanting nothing. However, you can put a bow on this package with the right Ford dealership. You're going to get so much joy and excitement out of your Mustang, why not fully enjoy your buying experience and service appointments, as well? At Ray Skillman Hoosier Ford, we're here to truly partner with you to find the ideal path to putting you behind the wheel. Our brand of personal service and unparalleled value not only make things easy for you, they go a long way to making your Mustang purchase a practical one. Just because you're treating yourself to the legendary Mustang, it doesn't mean it has to be considered a frivolous purchase.
The Ford Mustang is all about your complete and total enjoyment. You deserve a dealership family with the size and ability to get you whatever you may need. You deserve to put the new Mustang in your garage, and we're here to make it happen on your terms. Take a sneak peek at our extensive selection online now, then contact us via your preferred method to set up the most thrilling test-drive you'll ever have. It's time. Your Mustang is waiting to play.
Here at Ray Skillman Hoosier Ford, we are your premium Mustang dealership. We have a variety of Ford Mustangs to choose from with various option packages. If you don't see the Mustang of your dreams, let us order a customized model just for you! We look forward to serving your needs with our team of professional and friendly staff. Come in and see us today!
It's simple, a vehicle as incredible as the new Mustang should come with the attention to detail and personal service you deserve. That's the Ray Skillman difference. When you work with a professional team, equipped with the drive and know how to keep you fully informed and completely satisfied, you win every time. The Ray Skillman experience means that your individuality, your time, and your budget are valued beyond compare. We know you have plenty of choices to buy a car in the Plainfield area; that's why we make it a point to prove why we're the best choice.

New Ford Mustang
The new Mustang has it all. There's a lot to be excited about in this game-changing performance machine. Find yours now, along with Plainfield's BEST service and value.

Pre-Owned Ford Mustang
A vehicle this incredible is bound to be on more than a few wish lists. That's why it's easy to maintain a strong selection of pre-owned models to choose from.

Incentives and Rebates
The Ray Skillman discount is always above and beyond what Ford offers on new vehicles, so you can have your cake and eat it, too.
Experience the Skillman Difference
Buying a vehicle is a special experience. We understand that this isn't something our customers do every day, which is why we treat every interaction with the respect that it deserves. Ray Skillman has served the Plainfield market for decades because we believe that the community and its people supersede any expectations set by a corporation. This is your community. This is our community. When you are shopping for a new or used Mustang, you expect the experience to match the promise, which is why we are open and transparent every step of the way. Below, you will find more information about owning the new Mustang. We hope that you'll contact us and allow us the opportunity to show you why buying from Ray Skillman Hoosier Ford truly is the best shopping decision you can make.
Ray Skillman Ford Mustang
There's more to a vehicle demonstration than picking out colors and taking a test drive. At Ray Skillman Hoosier Ford, we want you to know everything that's important to YOU in your next new vehicle. The Ford Mustang is uniquely positioned in the Plainfield market because of our love of incredible performance and superb style. The Ford Mustang has the proper mixture of strong performance and cutting-edge style that's appealing to drivers all over Indiana. Our team is here to make sure you're aware of every feature, tip, and maintenance best practice because we take pride in delivering the ultimate shopping experience for our customers.
Attention to detail is important. You won't miss a thing when you shop at Ray Skillman Hoosier Ford.
---
We know you have many options when it comes to Ford dealers in the Plainfield and Plainfield area. Our hope is that you will give us the first opportunity to earn your business because of the tremendous experience, great pricing, superb Mustang selection, and our commitment to making your buying experience the most positive one you've ever had when shopping for a vehicle. We stand behind the ideal of delivering the type of respectful engagement that the people of the Indiana deserve and if you give us the first opportunity, you'll see why our customers come back time and time again.
---
WHY RAY SKILLMAN HOOSIER FORD
Some dealerships take pride in their sales numbers. Others point to their P&L statements to determine their success. At Ray Skillman Hoosier Ford, the most important indicator of whether or not we're successfully achieving our goals is when you are overwhelmed by our outstanding customer experience. It goes beyond satisfaction. We want you to be ecstatic with the way you were treated and impressed with how easy it was to get the best Ford deal in Indiana. Your opinion is the one that matters at Ray Skillman Hoosier Ford. It's what drives our success.
---
Customers Come First
See What Our Customers Are Saying
---
---
Your Ford Mustang Shopping Experience
We hope we've answered most of your questions about why you should consider Ray Skillman Hoosier Ford as your first choice when shopping for a new or pre-owned Mustang. If you are ready to learn more, please contact us through your preferred method of communication and ask us anything you'd like to know. If you're ready to schedule your test drive, please use the form below. At Ray Skillman Hoosier Ford, you control your shopping experience. We're here to help facilitate and to be your personal automotive experts.