Ford Escape Indianapolis IN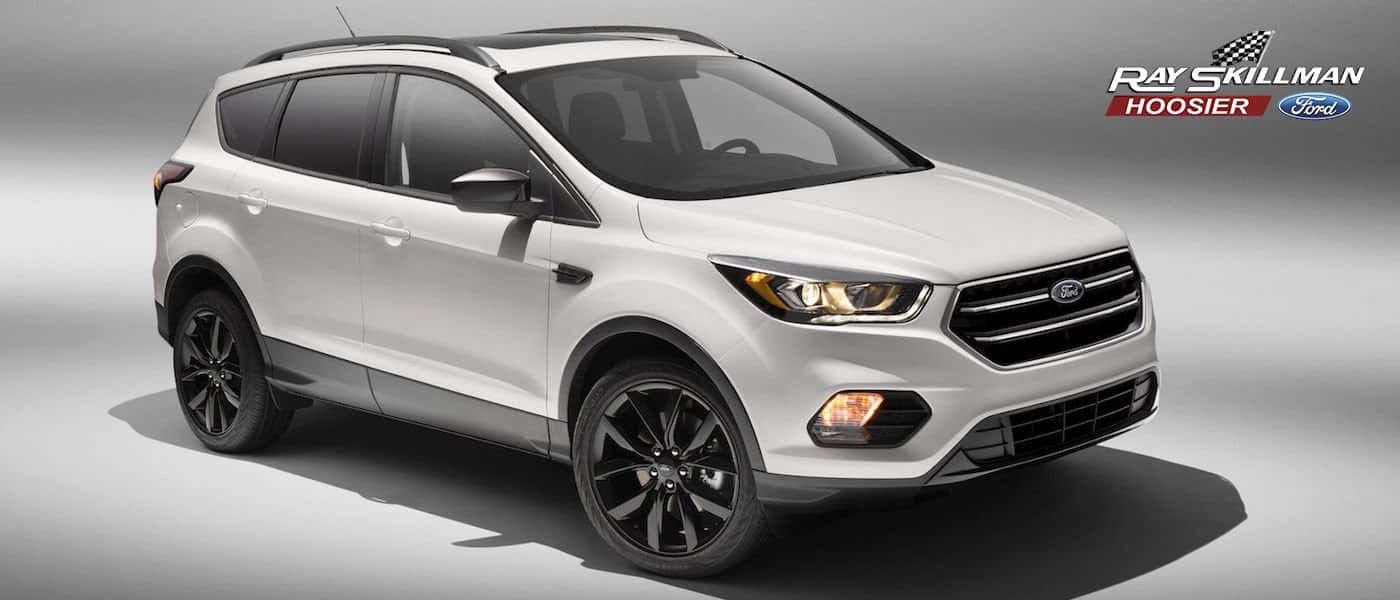 Ray Skillman Hoosier Ford
Make Your Escape
The Ford Escape was designed to keep you moving in and around Indianapolis. It is functional, fun to drive, and packed with more features for you to love than your average SUV. Stop by Ray Skillman Hoosier Ford and experience the Escape.
When you are ready to make your getaway, how do you make your escape? When you need to go further, you may choose to do it in the popular Ford Escape. The Escape gives you everything to enjoy a long road trip, or weekend getaway. You can experience spontaneity anytime when you choose Escape and we have them in stock for your viewing pleasure at Ray Skillman Hoosier Ford.
Take It On The Go
We all need to get away from it all sometimes. Life can be demanding and if we don't take the time to unplug and unwind, stress can take its toll on us. When you are ready for your next adventure, the Ford Escape is ready to be your accomplice and act as your getaway vehicle. It is capable enough to handle almost anything you toss its direction. When properly equipped, the Escape can tow up to 3,500lbs, which means you can take more on your adventure. Do you like to water ski and tube on the lake? Take the boat. Maybe you like to camp? Take the trailer and enjoy the sound of crickets and the sound of silence or a babbling stream. You can make the next adventure yours when you choose the Ford Escape. Let us give you a tour when you stop by Ray Skillman Hoosier Ford.
Your Safety First
We all want the safest driving experience possible, and that is why we shop for vehicles that can help to keep us safe. The Ford Escape is packed with advanced safety features that were designed to prevent and protect you from accidents. Keep your perfect distance at all times with the Adaptive Cruise Control and Collision Warning with Brake Support. Lane Keeping System will help you stay in your path and alert you if you should drift into another lane. It uses cameras to watch the lines so you stay safe. Blind Spot Information System with Cross-Traffic Alert is there to let you know when there is something in your path, and when you can proceed safely. For a full list of safety features, visit one of our product specialists at Ray Skillman Hoosier and they can give you detailed information on each feature.
Tech That Excites
When you step inside the Ford Escape, you will notice its futuristic styling and technology. The center dash may seem like a small tablet or computer, but it was designed to help you navigate the roads of your life. With Voice Recognition via Bluetooth technology, you can give your Escape commands, all with your voice. Siri Eyes Free allows iPhone users to get even more out of their driving experience because it pairs with your phone to allow you to control more features using your voice, like text messages and phone calls. Integrated Navigation gives you a map displayed on the screen and turn-by-turn directions to ensure you don't get lost. You won't have to ask your significant other to stop for directions, avoiding an argument. Let our tech experts show you these features and more.
Your Great Escape Awaits At Ray Skillman Hoosier Ford
At Ray Skillman Hoosier Ford, you will always find the vehicle you are looking for. We have a great selection of the popular Ford Escape for you to choose from in a variety of colors and options. In fact, we have over 100 incredible Escape models on our lot, so you won't have to go anywhere else. Take a look online or come into our store and see just how extensive our inventory is for you. We want to make it easy on you so you don't have to go to multiple dealerships to get the Escape you want at the price you need. Get started on our website today, then come down and take a test drive.
It's simple, a vehicle as incredible as the new Escape should come with the attention to detail and personal service you deserve. That's the Ray Skillman difference. When you work with a professional team, equipped with the drive and know-how to keep you fully informed and completely satisfied, you win every time. The Ray Skillman experience means that your individuality, your time, and your budget are valued beyond compare. We know you have plenty of choices to buy a car in the Indianapolis area; that's why we make it a point to prove why we're the best choice.

New Ford Escape
The new Escape has it all. There's a lot to be excited about in this game-changing performance machine. Find yours now, along with Indy's BEST service and value.

Pre-Owned Ford Escape
A vehicle this incredible is bound to be on more than a few wish lists. That's why it's easy to maintain a strong selection of pre-owned models to choose from.

Incentives and Rebates
The Ray Skillman discount is always above and beyond what Ford offers on new vehicles, so you can have your cake and eat it, too.
How Does The Escape Stack Up Against The Competition?
One of the most challenging decisions to make in life is which new vehicle to purchase. Even if you've bought a few different ones during your time as a licensed driver, it never seems easier.
The Ford Escape at Ray Skillman Hoosier Ford near Indianapolis, IN, is an excellent choice for your next new vehicle purchase when exploring the 2020 competitor comparison with the Dodge Journey, Jeep Cherokee, and Chevrolet Equinox.

2020 Ford Escape vs. 2020 Dodge Journey
Compared to the 2020 Dodge Journey, the 2020 Ford Escape seats only five but has a much more impressive fuel economy. Depending on the engine and the trim level, you can get anywhere from 23-44 miles per gallon in the city and between 31-37 miles per gallon on the highway.
If you are comparing these two models solely on comfort, the Escape takes the cake. Passengers sitting in the back row of seats will have more room for their heads and legs. The Escape is also the clear choice compared to the Journey when you need a vehicle that can tow heavy items.

2020 Ford Escape vs. 2020 Jeep Cherokee
Once again, the Ford Escape wins in a head-to-head comparison with the 2020 Jeep Cherokee. Fuel economy takes victory by a range of 5-22 mpg in the city, and a range of 7-6 mpg hwy.
The Escape and the Cherokee both seat five people comfortably. This model from Ford provides more cargo room for your luggage than the Cherokee offers. However, the Cherokee can pull about 1,000-pounds more than the Escape is capable of towing.
Now is the time to explore all that the Ford Escape has to offer. Visit Ray Skillman Hoosier Ford today to take one of these models for a test drive with a knowledgeable and friendly staff member.

2020 Ford Escape vs. 2020 Chevrolet Equinox
The combined miles per gallon for the Escape comes in at 30, two more than the 2020 Chevrolet Equinox. Both vehicles feature FWD and seat five people. The Escape is roughly $1,000 more for the base model than the Equinox.
The cargo room is nearly identical for these models, but the Escape takes home the victory with 37.5 cubic feet. With total cargo space of 65.4 cubic feet, the Escape beats the Equinox by 1.5 cubic feet of space.
Drive Home In A 2020 Ford Escape Today
The 2020 Ford Escape is the better choice when compared to the 2020 Chevrolet Equinox, the 2020 Jeep Cherokee, and the 2020 Dodge Journey in almost all categories, including the price tag. Drive off to your destination of fun in Indianapolis in one of these Ford models today from Ray Skillman Hoosier Ford.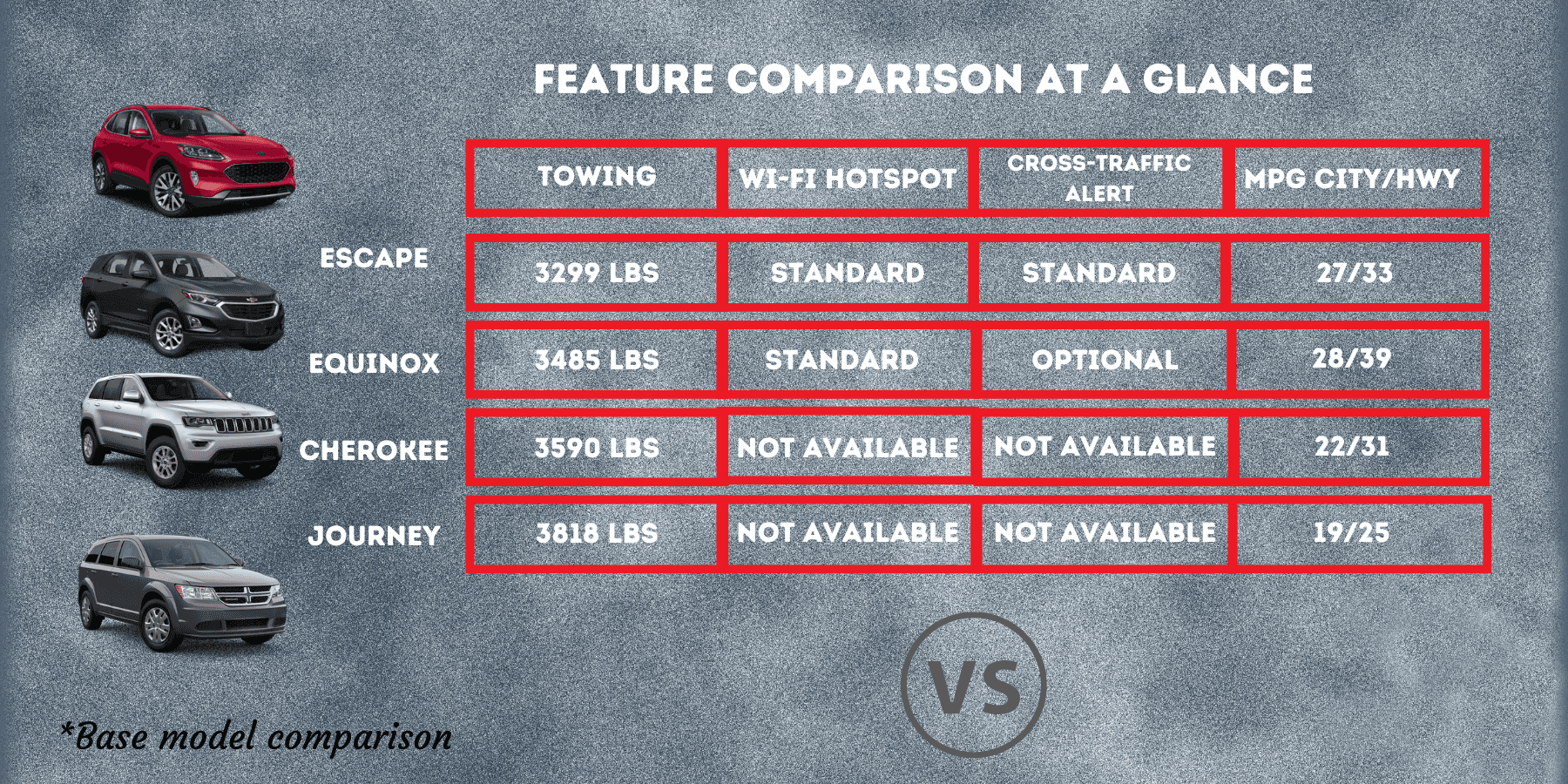 Experience the Skillman Difference
Buying a vehicle is a special experience. We understand that this isn't something our customers do every day, which is why we treat every interaction with the respect that it deserves. Ray Skillman has served the Indianapolis market for decades because we believe that the community and its people supersede any expectations set by a corporation. This is your community. This is our community. When you are shopping for a new or used Escape, you expect the experience to match the promise, which is why we are open and transparent every step of the way. Below, you will find more information about owning the new Escape. We hope that you'll contact us and allow us the opportunity to show you why buying from Ray Skillman Hoosier Ford truly is the best shopping decision you can make.
Ray Skillman Ford Escape
There's more to a vehicle demonstration than picking out colors and taking a test drive. At Ray Skillman Hoosier Ford, we want you to know everything that's important to YOU in your next new vehicle. The Ford Escape is uniquely positioned in the Indy market because of our love of incredible performance and superb style. The Ford Escape has the proper mixture of strong performance and cutting-edge style that's appealing to drivers all over Indiana. Our team is here to make sure you're aware of every feature, tip, and maintenance best practice because we take pride in delivering the ultimate shopping experience for our customers.
Attention to detail is important. You won't miss a thing when you shop at Ray Skillman Hoosier Ford.
---
We know you have many options when it comes to Ford dealers in the Indy and Indianapolis area. Our hope is that you will give us the first opportunity to earn your business because of the tremendous experience, great pricing, superb Escape selection, and our commitment to making your buying experience the most positive one you've ever had when shopping for a vehicle. We stand behind the idea of delivering the type of respectful engagement that the people of Indiana deserve and if you give us the first opportunity, you'll see why our customers come back time and time again.
---
WHY RAY SKILLMAN HOOSIER FORD
Some dealerships take pride in their sales numbers. Others point to their P&L statements to determine their success. At Ray Skillman Hoosier Ford, the most important indicator of whether or not we're successfully achieving our goals is when you are overwhelmed by our outstanding customer experience. It goes beyond satisfaction. We want you to be ecstatic with the way you were treated and impressed with how easy it was to get the best Ford deal in Indiana. Your opinion is the one that matters at Ray Skillman Hoosier Ford. It's what drives our success.
---
Customers Come First
See What Our Customers Are Saying
---
---
Your Ford Escape Shopping Experience
We hope we've answered most of your questions about why you should consider Ray Skillman Hoosier Ford as your first choice when shopping for a new or pre-owned Escape. If you are ready to learn more, please contact us through your preferred method of communication and ask us anything you'd like to know. If you're ready to schedule your test drive, please use the form below. At Ray Skillman Hoosier Ford, you control your shopping experience. We're here to help facilitate and to be your personal automotive experts.