Ford Bronco for Sale Martinsville Indiana

Ray Skillman Hoosier Ford
The Rumble Of A Returning Legend
Hear that sound? It's the sound of an off-road legend stampeding to a showroom near you. Call Ray Skillman Hoosier Ford today and test drive your Ford Bronco in Martinsville, IN. This 4×4 legend is bigger, bolder, and ready to rule any road, anywhere.
Make Room In Your Stable (Um, Garage)
Reservations for the First Edition Bronco are already full, but you can still get one of six available Broncos. Whether you need a balance of off-road and daily driving capability or you're ready to make your own path, there's a breed of Bronco that's perfect for you.
Base: Think of this as a blank canvas on which you create the Bronco you want. Talk to our product specialists about available customizations, such as the Sasquatch Package.
Big Bend: Impress your boss or your clients when you take them to lunch in this ruggedly stylish Bronco. And when you're ready for some "You Time," head for the trails in comfort with luxury touches, including heated seats and remote start.
Black Diamond: Not only can this Bronco handle any terrain, but it also has available Marine-grade vinyl seat trim to make clean-up a breeze.
Outer Banks: Whether you call it drip or swagger, you'll turn heads when you pull up in this Bronco. It's not all about the looks, though; Outer Banks is fully in command whether you're in the Big City or on the backroads.
Badlands: If you look at a rocky hillside and rub your hands together with glee, this is the Bronco you've been waiting for. You'll be the King or Queen of the Mountain with these specially-engineered 33- or 35-inch all-terrain tires and shocks, stabilizer bar disconnect, and the torque you need for lift-off.
Wildtrak: This Bronco with a 2.7L twin-turbo V6 engine is born to run. Put through its paces in well-known off-road racing locations, including Johnson Valley, California; there's no holding the Wildtrak back.

Management Material

You're going to see the term G.O.A.T. associated with the Ford Bronco, but don't get it confused. It's the same legendary wild horse with Goes Over Any Terrain technology. And we mean ANY terrain. The Bronco has been tested under some of the most challenging conditions, handling snow, mud, sand, and rocks and fording rivers like a boss. Our expert team has all of the info you need about Bronco's trail management, including turn assist and one-pedal control. Call and talk to our specialists or schedule a visit to our showroom.

Good Luck Keeping This Bronco Corralled

Ford offers two beefy powertrain options in the Bronco that deliver the torque you need to hit the ground running. If you're looking for a balance of power and fuel economy, the 2.3L four-cylinder engine pounds out a best-in-class 310 pound-feet of torque with 270 horsepower. If your adventures require some extra muscle, take the reins of the best-in-class 2.7L EcoBoost engine. This beast cranks 310 horsepower and 400 pound-feet of torque to put you in command of every road and trail.

The Details That Matter

From tech to interior details, the Ford Bronco is built for the unique demands of off-roading. The dash includes a full-color digital display cluster and a large, easy-to-read touchscreen that includes the information you need, such as navigation and trail details. And with available vinyl seating and rubberized floors with drain plugs, the Bronco cleans up nice and easy.

Open Up And Say AAAAAAAAH!

The Ford Bronco is available in two-door and four-door models. Whichever you choose, you can customize your experience by removing the roof and doors and let the outside in. And it's easy to stow your doors in the back of the Bronco, so when you hear the call of the wild, you don't have to run home first to stash everything in the garage.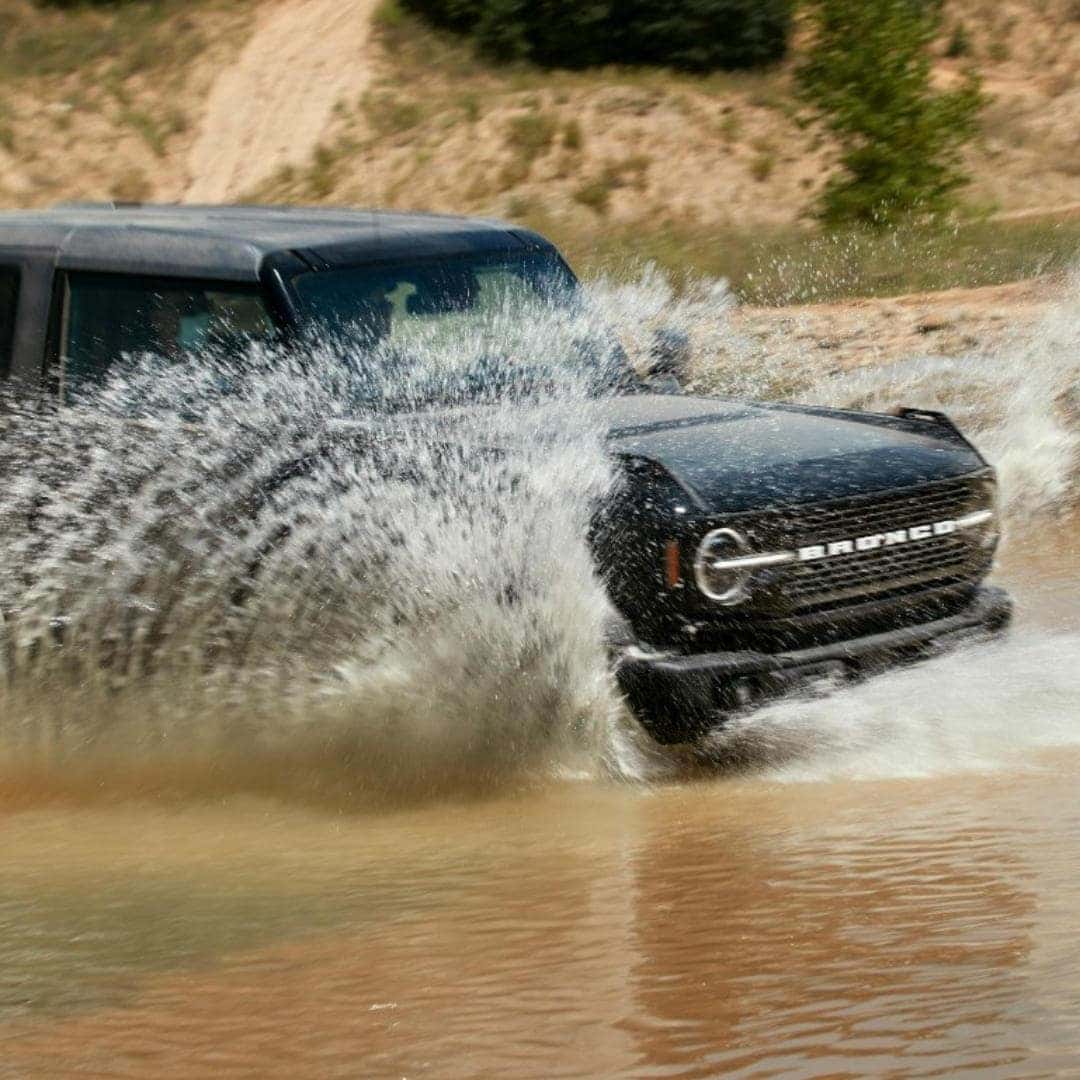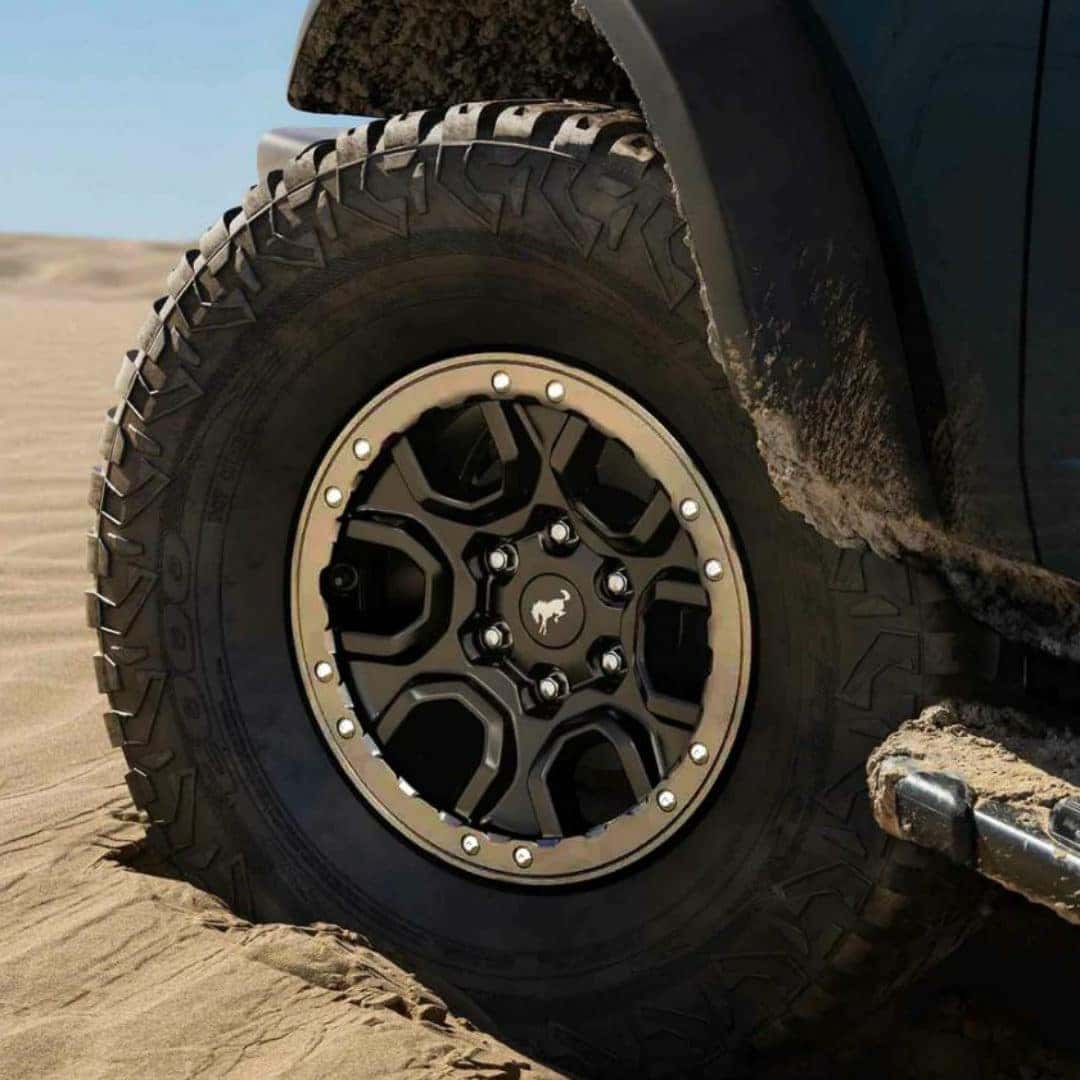 Don't Miss Out: Get Yours Today
We expect demand for this 4×4 beast to be off the charts, so don't wait too long to find your Ford Bronco in Martinsville, IN. Contact Ray Skillman Hoosier Ford today to get the full details about the available models, available customization packages, and pricing. We're excited to see the return of this legend and can't wait to help you put one in your driveway!
BUILT FOR WILD